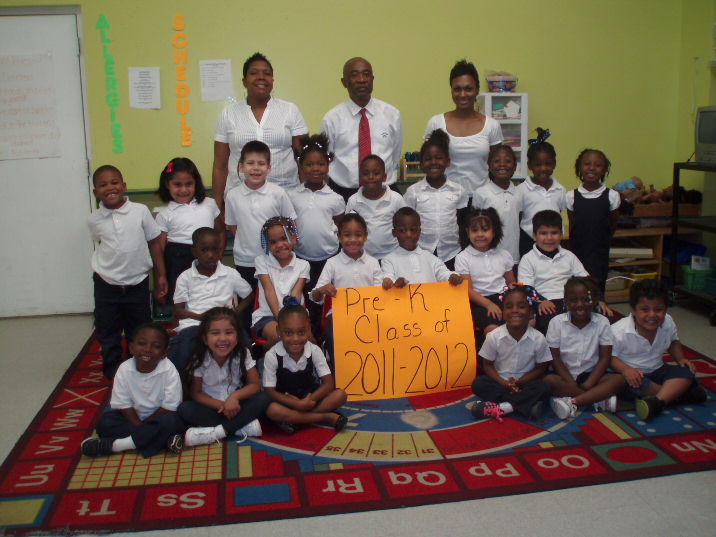 Bright Kids academy educational program follows the path that children learn more when a child can be part of the tools they are using for learning by touching and controlling these items.
We use the High Scope Curriculum in our Pre-K program and the A Beka book in our preschool.
The basis of High Scope is that children and adults learn best through hands-on experiences with people, materials, events, and ideas. High Scope Curriculum is built on the concept of supporting children at their current developmental level and helping them build upon it — in a social setting where children have opportunities to choose materials, ideas, and people to interact within the projects they initiate.
The A Beka program focuses on teacher directed teaching methods. A Beka is a Christian based educational program and supports age appropriate learning goals.
We offer the following educational programs:
Infants
The Infants program is for children from 6 weeks - 1 year of age.

Physical development is rapid in the first few years of life. Understanding this and working to enhance the physical development of the child is very important at this stage. A child's overall well-being is dependent on a nurturing and supportive environment with consistent caregivers. We work hard for the Emotional and Social Development of your baby. Yes, babies can "talk". Language and Literacy Development of your baby is enhanced by our teachers.

An environment that is rich in language, both spoken and printed, supports language development. When provided a stimulating, nurturing, and safe environment, children use all their senses to explore their surroundings. Babies are born to learn. Through play and exploration children begin the process of discovery. The cognitive domain is the area of development that focuses on thinking and processing information.
Toddlers
The Toddler program is for children from 2 - 3 years of age and uses the A Beka cirriculum.

The Toddlers are provided with age appropriate materials and room conditions that encourage curiosity to explore. The Toddlers adjust faster when they learn those basic skills such as sharing, potty, and helping themselves for the transition into the pre-school as they turn three.

Babies creep and crawl before they stand, walk, and run. They swipe at objects first and then reach and grab. They grasp objects placed in their hands before they pick them up for themselves. Each new skill builds a child's physical competence and ability to do things independently. Children learn as they play and need to be able to move freely in their environment to grow to their full potential. Bright Kids Academy provides that safe place for the physical development of your child.

As children learn to express themselves, they are also listening and learning from what they hear and see. As children's cognitive abilities grow, they gain a sense of mastery over their world. They learn that their actions can cause something to happen. Bright Kids Academy is where children learn to make it happen.
Preschool
The Pre-school program is for children from 3 - 4 years of age and uses the A Beka cirriculum.

Parents and teachers are often surprised at how fast skills develop and how much energy it takes to keep up with growing youngsters. They are filled with energy and should be encouraged to use their arms, legs, fingers, and hands to explore the world around them.

Physical development supports development in other areas. For example, social development occurs as children move about and interact with others. Cognitive development is supported as they explore and respond to the different objects they encounter. When encouraged to do so, young children express themselves creatively through language, art, music and dramatic play.

Adults play a significant role in supporting children's self-expression or restricting it. Here at Bright Kids Academy we work hard to bring out the full potential in your child.
Pre-K
The Pre-K program is for children 4 years of age by September 1st of the school year.

The Program is a State Sponsored Pre-kindergarten. The most important requirement to qualify is a proof of age documentation.

The curriculum for our Pre-K is High Scope. We have two state approved teachers in each classroom and follow the Douglas County school calendar. Siblings after siblings have gone through our Pre-K program.

We are proud to state that principals and teachers in the area have told us that our students are well prepared when they enter kindergarten.
After School
After schoolers (ages 5 - 12 years old) are picked up from the local school in our area pick up list.


After schoolers participate in the centers' afternoon snacks and are helped with their HOME WORK before they are allowed to participate in other centers' non academic programs. Check with the center director for the list of schools we pick up from.

The following activities take place during after school hours: (3:00pm - 7:00pm)
Home work
Arts & crafts
Computer skills
Reading
Physical activities
Summer Camp
Our summer camp is filled with fun activities. Students have the opportunities to explore different areas of interest. We take field trips to places like Georgia State capital, Sparkles, Movies, Tellus science museum, Bowling, different parks, and other places of interest. We also catch up on our math and reading by engaging in different kinds of activities.
The following activities take place during summer camp for children 5 - 12 years old:
Computer skills
Physical activites
Field trips